Happy Spring, everyone! I've missed you all more than you know! I knew I needed to come back when I started finding more projects around the house to share with you. I also have a bunch of new favorites that I've found that I just had to tell you about. So what's new with all of you? Are you enjoying the smell of the Magnolia trees, in awe at how early Spring has come this year, and getting ready to think about what you are going to plant this summer? I hope so!
I have two favorite nail polish colors for Spring and Summer!
First is Essie Watermelon. It's the PERFECT melon color for your fingers or toes!
Next is Essie Turquoise and Caicos. I prefer it on my toes when I'm tan, but I may try it on my fingernails.
Aren't these fun?!
When I was at Sephora a couple of weeks ago the sales person asked me if I wanted to try a few samples of perfume. UM, have you met me? I love perfume! I took three samples home and fell in love with one. It's Dior Addict to Life and it smells like a flower garden. I like floral perfumes so if you don't, stay away from this one!
Did you know that
Toms
now has ballet flats? You can't feel bad about spending almost eighty dollars for shoes when you know that someone who can't afford them is also getting a pair because you bought them! This is what you tell your husband when he asks you why you have so many pairs of shoes. Don't you want to help those less fortunate, honey?
I (of course) want these...
You aren't surprised, are you?
Next, if you're looking for a new rug or two, have you seen
Flor
? You really can't find anything like this in stores. Sign up for a catalog to get special deals like free shipping or 25% off a few times a year. Then start praying that they open one of these showrooms in your state. Some of these are so cute they make me want a bigger house just so I can have more rugs. Did I mention they are squares that you put together and if they get dirty you can wash them in the sink? Yup. How cool is that?
I love this one because it looks like a camel colored knit sweater.
And this one because it's fun!
Don't think I'm crazy on that one, just go look at the website and see how it looks in a room!
Now hop on over to
Anthropologie
and look at these! Doesn't it make you feel like changing the knobs on your desk, dresser, or SOMETHING just so you can have these?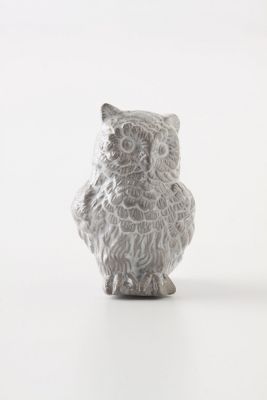 They are ten dollars per knob, but well worth it if you just need a few! Owl love.
So what sorts of things are you liking for Spring or Summer? Have you thought about swapping rugs or lamps in your rooms to have a different look for a bit? Maybe paint your front door a fun and cheery color? Or just buy a pot of Pansies and set them out on your front steps to remind you that flower season is on its way!
I'm so glad to be back. I've missed blogging and I've missed you!
-Stacy